So you've set a goal to be better at meal prep.. but now what?  Where do you start? Start with Meal Prep 101.  Get the basics down. Learn some tips and tricks on how to make it successful so that you aren't just spinning your wheels.  Once you read that post, come back for some of the best meal prep recipes and get ready to cook cook and cook some more!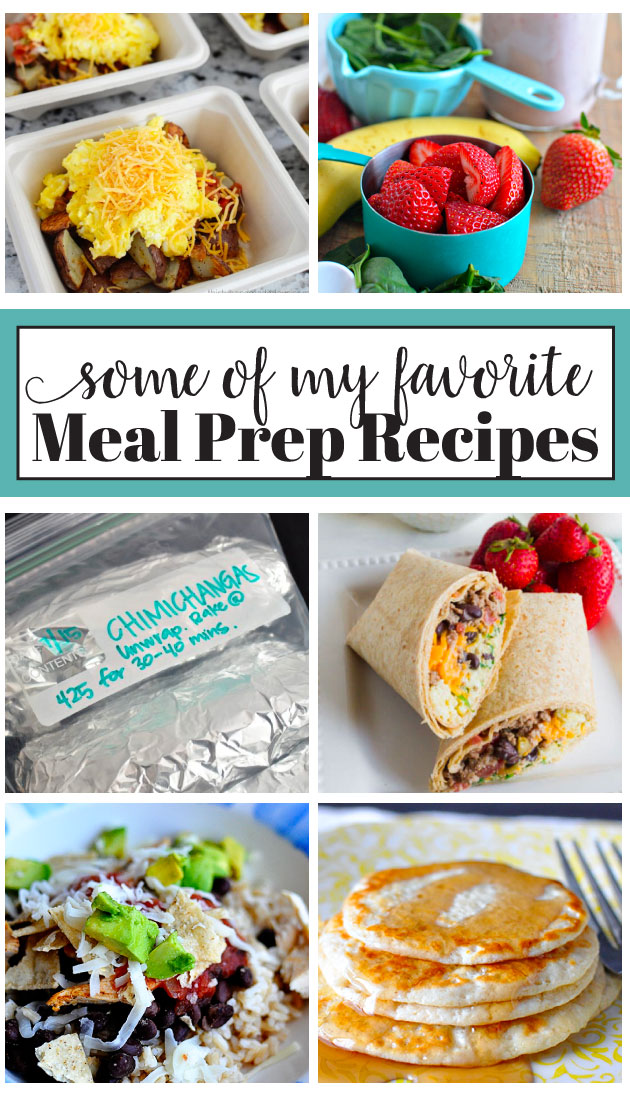 Here's the thing – you might spend a few hours on one day getting things ready, but then your week is set and you don't have to worry about what to prepare.  No standing at the fridge at 4:30pm because you don't know what to make for dinner, again.  While it might seem like a pain at first, you will get into a groove.  Trust me.
An added benefit of meal prep is that you can easily stay on track with healthy food.  I started doing it because I wanted to lose weight.  And planning everything out made it so much easier to do so.  But even if that's not the case for you, preparing ahead will help you maintain good, healthy meals.
Breakfast Meal Prep
Breakfast is often overlooked.  I admit, I used to be terrible about eating it every day.  Somehow in my mind I thought that it helped not eating one more meal but I was wrong! It helps get your metabolism going and is not good to skip.  Ever.  These breakfast meal prep recipes will help you avoid doing what I did for so many years.
Meal Prep Lunch Ideas
I think lunch is probably the easiest meal to prep for.  You don't have to make big portions or worry so much about your whole family (although it helps to prep everything for everyone).  The most popular thing to make are lunch bowls.  It will become pretty clear from this section that lunch bowls are everything!
Meal Prep Dinner Ideas
When people think about meal prep, I think they naturally think about dinner.  This is the obvious one that really takes things to the next level – if you can meal prep dinner, then you afternoons and evenings will go smoothly!
A few other things to note:
Get some of the basics before you start —
–Rubbermaid Set — I found mine at Target on clearance
–Meal Prep Containers – I found some at Costco and then bought some on Amazon too.  They are amazing!!
–Slow Cooker – make ahead proteins and awesome for busy days.
–Bag Stand Holder – these are great to hold bags open while you pour food in.  So much less mess!
–Griddler – Josh got me this for Christmas and it is awesome!
–Rice Cooker/Food Steamer – not only great for rice, but great for steaming vegetables
–Easy Lunchbox Set for lunches
–Crockpot Lunch Food Warmer – especially good for work
–Ziploc Storage Bags – gallon size 
–Snack bags – awesome to break down bulk snacks
–Dry erase markers  – to mark on containers
–Sharpies  – to mark on plastic bags
It takes a little bit of time to figure out what you and your family like best.  Don't give up right away if you feel like it's a lot of work.  Like anything else, the more you do it, the easier it becomes.
There will be meal prep recipes that you love and others that you don't.  Test out each new recipe before you make large batches of it.  There's nothing worse than just going for it and being stuck with a ton of meals you don't like.  You'll either end up wasting it or loathing those meals.  So do some test runs before you go all in.
WRITE IT ALL DOWN.  This is a huge deal for me.  If I write it down, I can see what I need to shop for, what will be on the menu for that day.  And also I am now writing down my Weight Watchers points too.  You can use my Printable Weekly Meal Planner, Meal Planning Template, Weekly Meal Planner Template or the monthly calendar on my meal prep post.
Do you meal prep?  What are some of your favorite meal prep recipes?