Let's talk about parenting teens! What, why and how you should discuss the important stuff with your kids.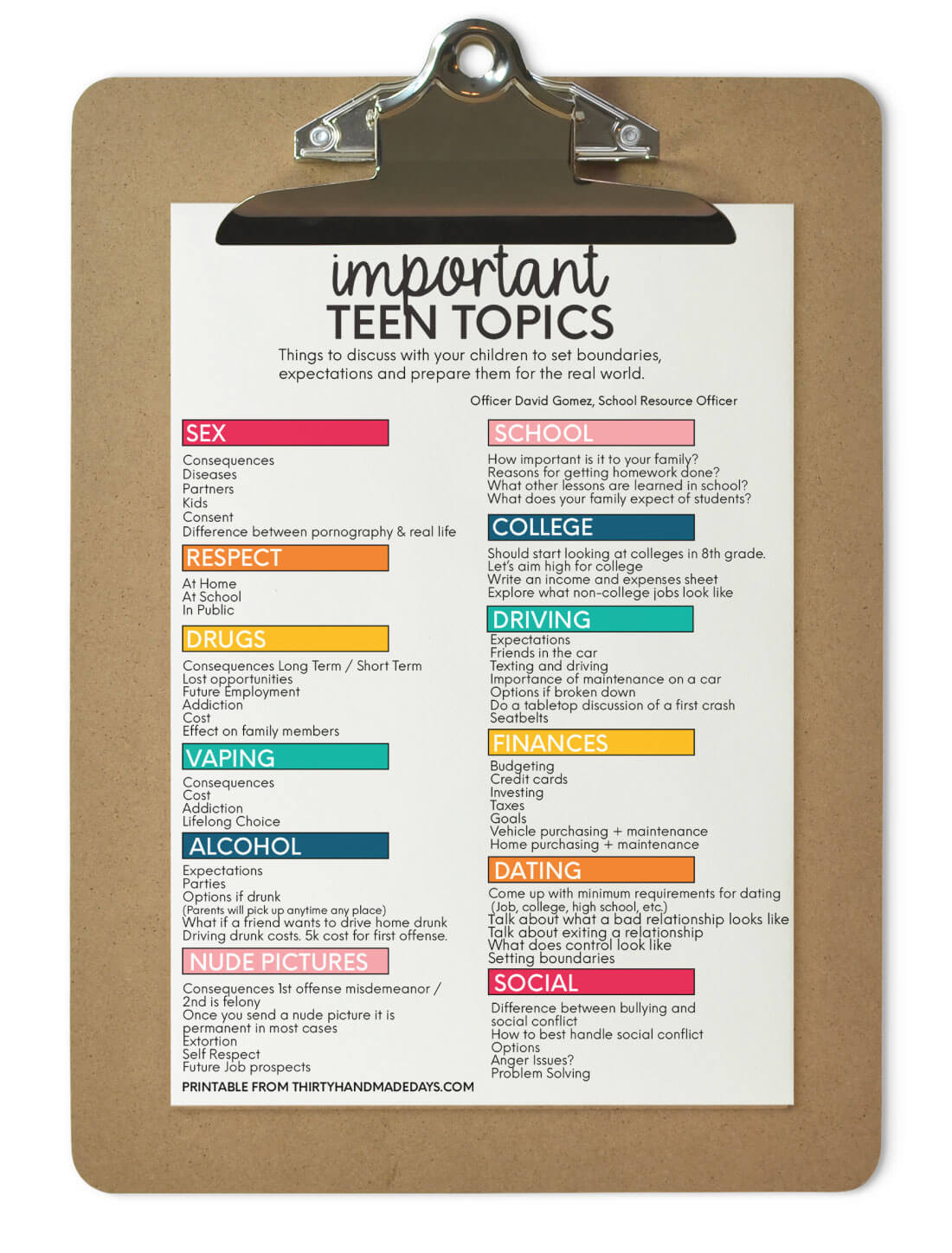 Parenting Teens
We have reached the next phase in life – a house of teenagers. When my kids were little, I never thought the day would come. Parenting topics have been discussed at length here on 30days and this one is a biggie. It might seem intimidating but it is so incredibly important that they have the tough talks and that your kids get their information from you.
While on Facebook I came across a post from Officer David Gomez, a School Resource Officer from Idaho. It was simple and straight forward. "I shouldn't be having this discussion for the first time with juniors and seniors in high school. Talk to your kids," was the caption followed by a list of itemized topics. I knew right away that it needed to be a printable to share with other parents.
Things to Discuss with Your Teens
There is no right or wrong to these topics. The "answer" is whatever expectations and boundaries you set as parents. What I consider appropriate for my kids, you might think otherwise and vice versa. Whatever your take is, it is imperative to have these discussions.
Take the time to spell everything out.
Sex: not only go over what sex is but what the outcomes are of having sex. Including:
Consequences
Diseases
Partners
Kids
Consent
Difference between pornography and real life
Respect: why is respect important? What does respect really mean? What are your expectations of how your kids respect others?
At home
In school
In public
Drugs: a discussion on how doing drugs leads to things in the future. Nobody thinks when they start doing drugs that they will end up addicted and affecting their life long term.
Consequences long term and short term
Lost opportunities
Future employment
Addiction
Cost
Effect on family members
Alcohol: importance of having a plan, what to do and consequences.
Expectations
Parties
Options if drunk (Parents will pick up anytime any place)
What if a friend wants to drive home drunk
Driving drunk costs – 5k cost for first offense

Vaping: Becoming more and more of an issue in schools and everywhere.
Consequences
Cost
Addiction
Lifelong Choice

Nude Pictures; something that needs a clear discussion
Consequences 1st offense misdemeanor / 2nd is felony
Once you send a nude picture it is permanent in most cases
Extortion
Self Respect
Future Job prospects
School: what you expect from your kids regarding school
How important is it to your family?
Reasons for getting homework done?
What other lessons are learned in school?
What does your family expect of students?

College: good topic to discuss goals with your kids and how to achieve them
Should start looking at colleges in 8th grade
Let's aim high for college
Write an income and expenses sheet
Explore what non-college jobs look like

Driving: discuss before it's time to get a permit and license
Expectations Friends in the car
Texting and driving
Importance of maintenance on a car
Options if broken down
Do a tabletop discussion of a first crash
Seat belts

Finances: go over all of the big financial stuff. Refer to this teaching kids about financial responsibility post.
Budgeting
Credit cards
Investing
Taxes
Goals
Vehicle purchasing + maintenance
Home purchasing + maintenance
Dating: how will you handle dating?
Come up with minimum requirements for dating (Job, college, high school, etc.)
Talk about what a bad relationship looks like
Talk about exiting a relationship
What does control look like
Setting boundaries

Social: big topic that needs clarification
Difference between bullying and social conflict
How to best handle social conflict
Options
Anger Issues?
Problem Solving

When I told my kids about the Facebook post from Officer Gomez and how important those conversations were to me, they both rolled their eyes and said that we've discussed them all over and over. It might be true but I'd much rather my kids know where their dad and I stand on all of this then say we never talked about it. According to them, they are over-prepared. But can you really ever prepare too much?
Looking for topics that are a little lighter? Print out these conversation cards.
Guidelines for Parenting
Check out my other guides for parenting:
Download this important teenage topics printable. For personal use only and permission to post from Officer Gomez. Thank you!