Looking for card games to play? Try this fun one called Ripple out! Printable instructions and score sheet included below.

After sharing one of our favorite card games, Knock, I wanted to share another card game that we play a lot. This doesn't take long to learn and only requires playing cards as well. It can be played with 2 people or a group of people. Everyone has fun! Check out Chase the Ace, Bluff, Play or Pay, and Nerts. More to try – Mexican Train and Tenzi.
Want more ideas for what to do indoors with preschoolers? Kids? Teens?
Card games to play
This card game is similar to Golf. You flip up cards and replace them with others but it has a few twists.
To start, you will need:
2-6 players
2 regular decks of cards – if playing with more people you'll need to add another deck of cards.
HOW TO PLAY RIPPLE
The object of the game is to have the lowest score at the end.
SETTING UP RIPPLE
Decide what you'd like to play to. We've often played to 100 points or -100 points, whichever comes first.
Place 2 decks in the middle of the table, face down, and move them around, face down to shuffle. This is the community draw pile.
Without looking at the cards, the players put their cards face down in front of them in 2 rows with 5 cards in each row (10 cards total).
Players turn over any 3 cards they want to be face up.
HOW TO PLAY
The first player takes a card from the community draw pile. The player can exchange it with one of the 10 cards by flipping one card up in exchange. The one that was exchanged is placed above the rows of the cards. This is a personal discard pile.
If the player doesn't want the card that he/she drew from the community pile, he/she places it in their discard pile.
The player to the left goes next. This player can take a card from the community draw pile or from any of the players' discard piles. If he/she draws a card and doesn't want to use it, she places it in her personal discard pile.
Play continues until one player has all of her cards turned over. This ends the round but the remaining players get one more turn before adding up their points.
ADDITIONAL PLAY TO THE GAME
MATCHING CARDS:
If you draw a card that has the same value of a card that is face up in your use it to replace the card that is either above or below the card with the matching value.
The score of the two matching cards cancels out and becomes zero.
"BLOCK PARTY:"
If you have two sets of matching cards that are side by side, you subtract 20 from the score for that round. This is called a "Block Party."
ADDITIONAL BLOCK PARTIES:
If you have three sets of matching cards that are side by side, subtract 40 points from your score for that round.
If you have four sets of matching cards that are side by side, subtract 60 points from your score that round.
HOW TO "RIPPLE:"
If you draw a card that matches one of your cards that is face up and the card either above or below it is still face down, exchange the card that you drew with the face down card.
If the face down card matches a card that is face up, exchange that card with the card either above or below it that is face down. You can continue to 'ripple' as long as the card that you turned face up can be exchanged for one that is face down. (You cannot exchange a card that was turned face up with a card that is already face up.)
HOW TO SCORE
After someone "goes out," to end the round, you will add up your leftover points. Here's how to score:
Ace= 1pt
Two= 2pts
Three= 3pts
Four= 4pts
Five= 5pts
Six= 6pts
Seven= 0 pts
Eight= 8pts
Nine= 9pts
Ten = 10pts
Jack= 0 pts
Queen, King = 10 pts
Joker = 0 points
The scores are accumulated from round to round.
The game is over when someone reaches either 100 points or -100 points.
I created a printable version of these rules so that you can download and refer to: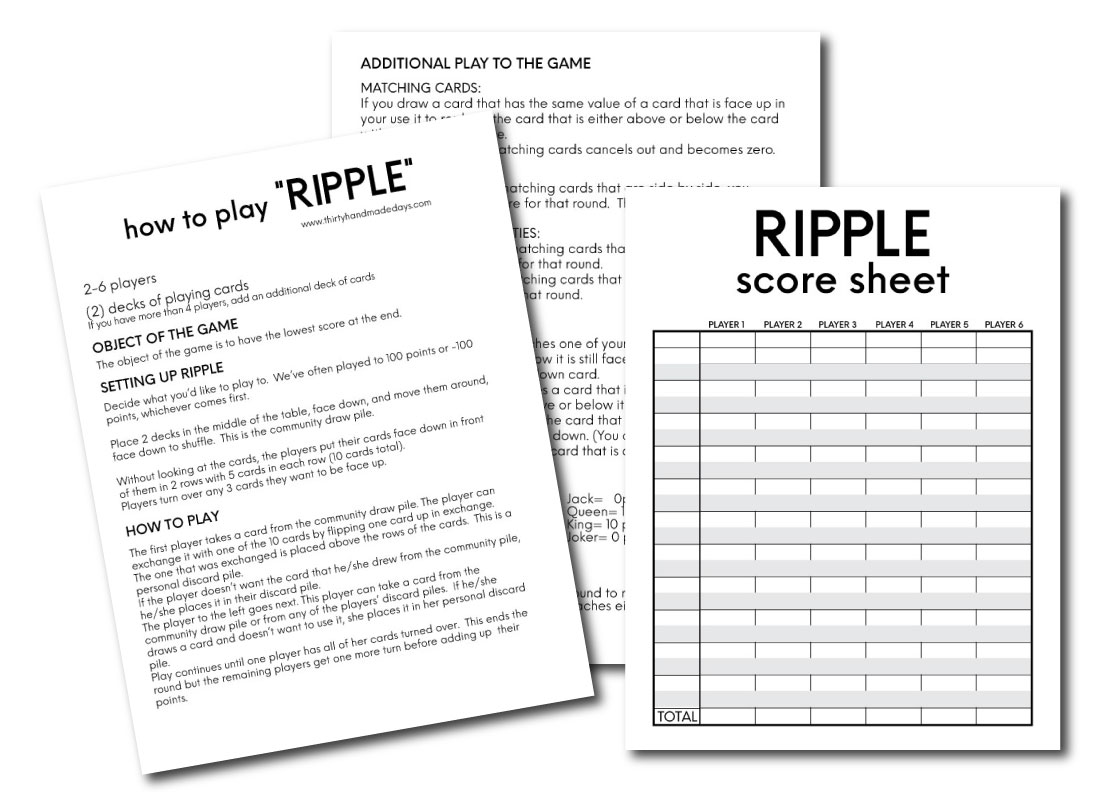 Download this set of game rules and score sheet.
Best Card Games
Over the years we've received several fun family games. Here are some of our newer favorites:
Cover Your Assets

: a Christmas gift, this game is so much fun! It's easy to play for people of all ages. We're huge fans of all of Grandpa Beck's games.
2. Skull King: chalk another one up to Grandpa Beck – this one is a little more confusing, takes some getting used to.
3. Phase 10: this game is a long one with lots of rounds. One of my favorite memories is playing it in Tahiti with my family.
4. SkipBo: one of the games I learned when I was growing up, this one brings back all kinds of memories.
5. Taco Cat Goat Cheese Pizza : this is a recent one that I got during a flash sale. I kept seeing people talk about it and thought it was worth a try. It's fun, simple and good for kids of all ages.