Learn how to play card games with these simple instructions for the game KNOCK. Printable instructions and score sheet included!

When Josh and I got married, I didn't realize how much games were a part of his family. They love games. It's something that I've grown to love and now our kids love games too.
Check out some of our favorite fun family games and How to Play Ripple, Bluff, Chase the Ace, Play or Pay, and Nerts. We enjoy teaching others how to play card games and for this post, we're going to show you how to play Knock. Make sure to try Mexican Train and Tenzi too!
Looking for ideas of what to do indoors with preschoolers? Kids? Teens?
How to Play Card Games
A lot of card games are based off of Rummy, this one is as well.
To start, you will need:
2-6 players
Regular decks of cards
(1) 52 card deck for two players,
(2) decks for three or four people
HOW TO PLAY KNOCK
This game has 11 rounds. The first dealer is chosen at random and the turn to deal passes to the left after each round. In the first round 3 cards are dealt to each player, in the second round, four cards are dealt and so on until the last round (Kings) in which 13 cards each are dealt. The rest of the cards are placed face down on the table to form a pile. The top card of the stock is being flipped face up and put beside the stock pile to start the discard pile.
The object of the game is to form all the cards in your hand into sets. There are two types of sets:
—> a set or group of three or more cards of a kind
such as heart5- club 5- spade 5.
When playing with more than one deck it is possible for a set to contain identical cards. For example:H9-C9-C9.
—-> a run or sequence of three or more cards in the same suit
For example: heart4-heart5-heart6
Note: Sets can contain more than three cards – for example: four 7's or 8-9-10-J-Q of a suit.
BUT, you can't count the same card as part of more than one combination.
For example spade5 -spade6 -spade7 -heart6 -clu6 is either a set of sixes with a 5 and 7 of spades left over, or a run of spades with two sixes left over.
Aces are low in this game, so A-2-3 is a valid sequence but Q-K-A isn't.
WILD CARDS
In each round there is a wild card. It is the card equal to the number of cards dealt. Wild cards can be used in place of any other card in making a group or sequence. You can even make a set that consists of only wild cards if you wish.
Round 1 = Threes are wild
2 = Fours are wild
3 = Fives are wild
4 = Sixes are wild
5 = Sevens are wild
6 = Eights are wild
7 = Nines are wild
8 = Tens are wild
9 = Jacks are wild
10 = Queens are wild
11 = Kings are wild
HOW TO PLAY
The player to dealer's left begins, and players take turns clockwise around the table.
A turn consists of drawing one card – either the top card of the face down stock or the top card of the discard pile – and then discarding one card face up on top of the discard pile.
**Only the top card of the discard pile can be taken
HOW TO "GO OUT"
You can go out at your turn to play if, after drawing the top card of the stock or the top discard, you are able to arrange all the cards in your hand except one into separate sets, and then discard a card.
In this case, when discarding you KNOCK (yes, literally knock). Each of the other players is allowed one more turn. When the turn to play comes back to you the round is over and the scores are calculated.
HOW TO SCORE
At the end of the round, each player arranges as much as possible of their hand into sets and runs. Any cards that are not included in a set or run are counted as penalty points against the holder.
Ace= 1pt
Two= 2pts
Three= 3pts
Four= 4pts
Five= 5pts
Six= 6pts
Seven= 7pts
Eight= 8pts
Nine= 9pts
Ten = 10pts
Jack, Queen, King = 10 pts
Jokers = 0 points
The scores are accumulated from round to round, and whoever has the lowest score at the end of the eleventh round is the winner.
I created a printable version of these rules so that you can download and refer to: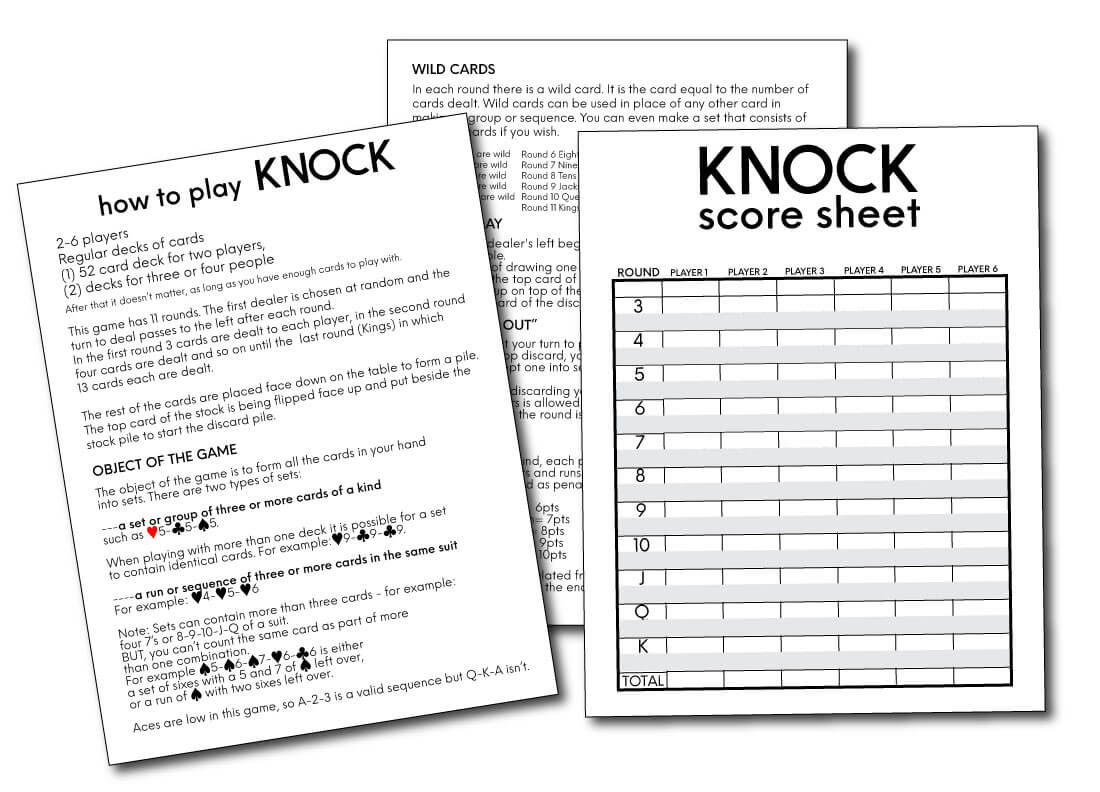 Download this set of game rules and score sheet.
Best Card Games
With family gatherings, cards are always played. Things like Hearts, Golf, Hand and Foot, and more, there's never a dull moment or lack of competition. Over the years we've gotten several other fun family card games. Here are some of our newer favorites:
Cover Your Assets

: another Christmas gift, this game is so much fun! It's easy to play for people of all ages. We're huge fans of all of Grandpa Beck's games.
2. Skull King: chalk another one up to Grandpa Beck – this one is a little more confusing, takes some getting used to.
3. Phase 10: this game is a long one with lots of rounds. One of my favorite memories is playing it in Tahiti with my family.
4. SkipBo: one of the games I learned when I was growing up, this one brings back all kinds of memories.
5. Taco Cat Goat Cheese Pizza : this is a recent one that I got during a flash sale. I kept seeing people talk about it and thought it was worth a try. It's fun, simple and good for kids of all ages.