Get ahead for the week with this easy crockpot chicken breast recipe. Throw in just a few ingredients and let it sit for hours until it's ready to go!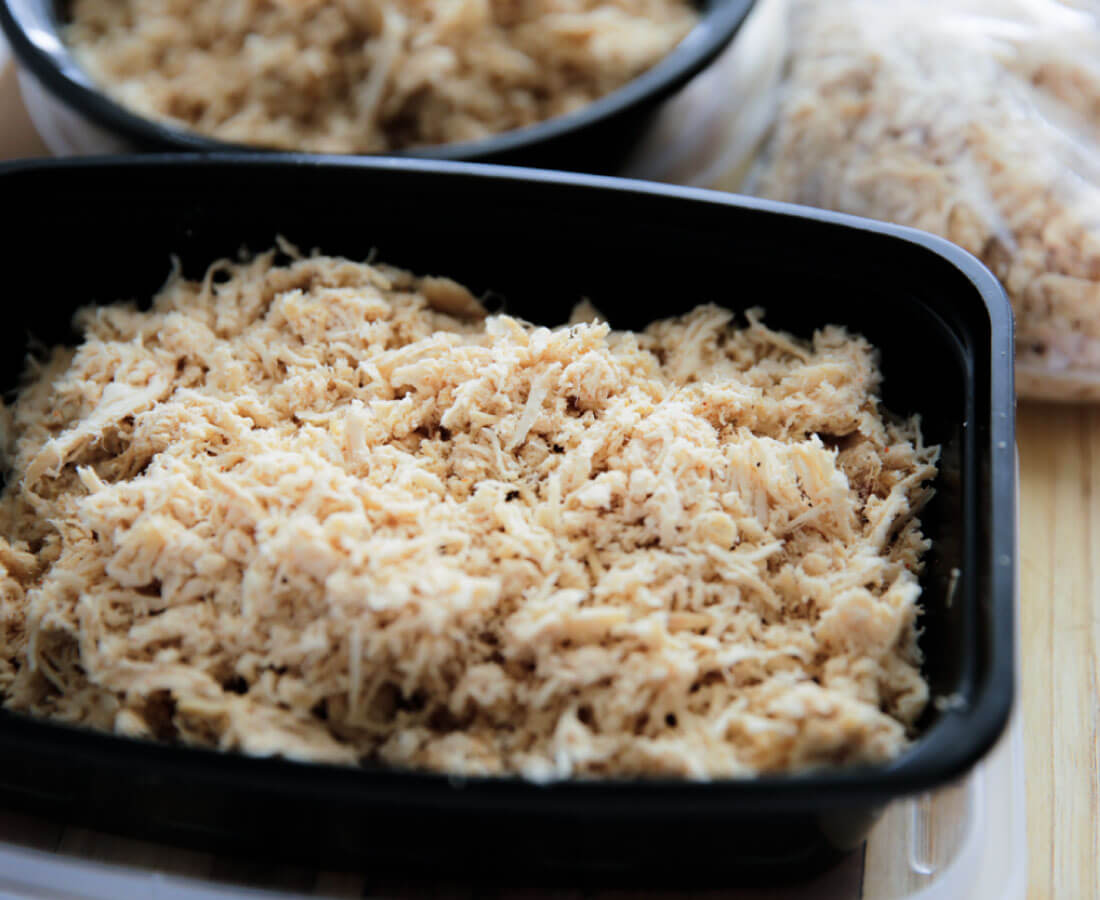 I'm always looking for ways to make things easier.  Making things ahead definitely helps with that.  We tend to eat chicken in soups, enchiladas, bakes, throughout the week.  Let's make some chicken for the week —
How to make crockpot chicken:
While not 100% necessary, I have come to love crockpot liners.  The first thing I do is line my slow cooker and then start adding ingredients.  Layer your chicken breasts in the crockpot and then add flavoring.  This recipe calls for taco seasoning and water, but all different kinds of spices could be substituted depending on the flavor you are looking for.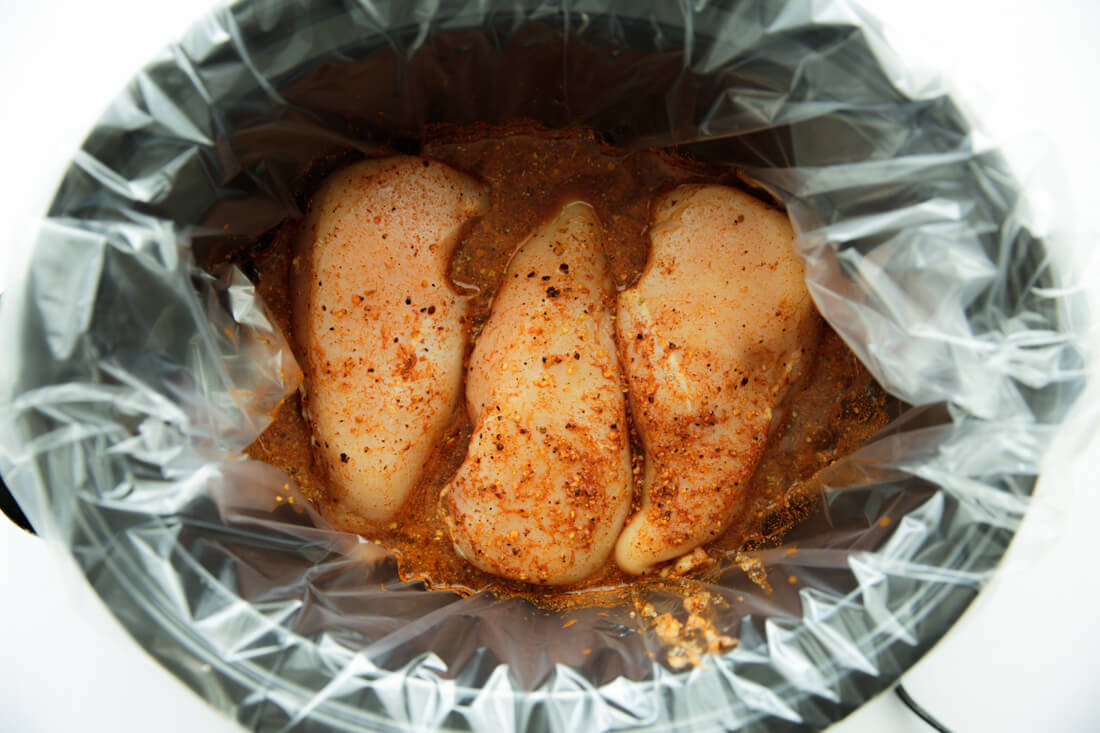 Add the top on and set your slow cooker on the correct settings (low for 6-8 hours depending on the size of your chicken breasts).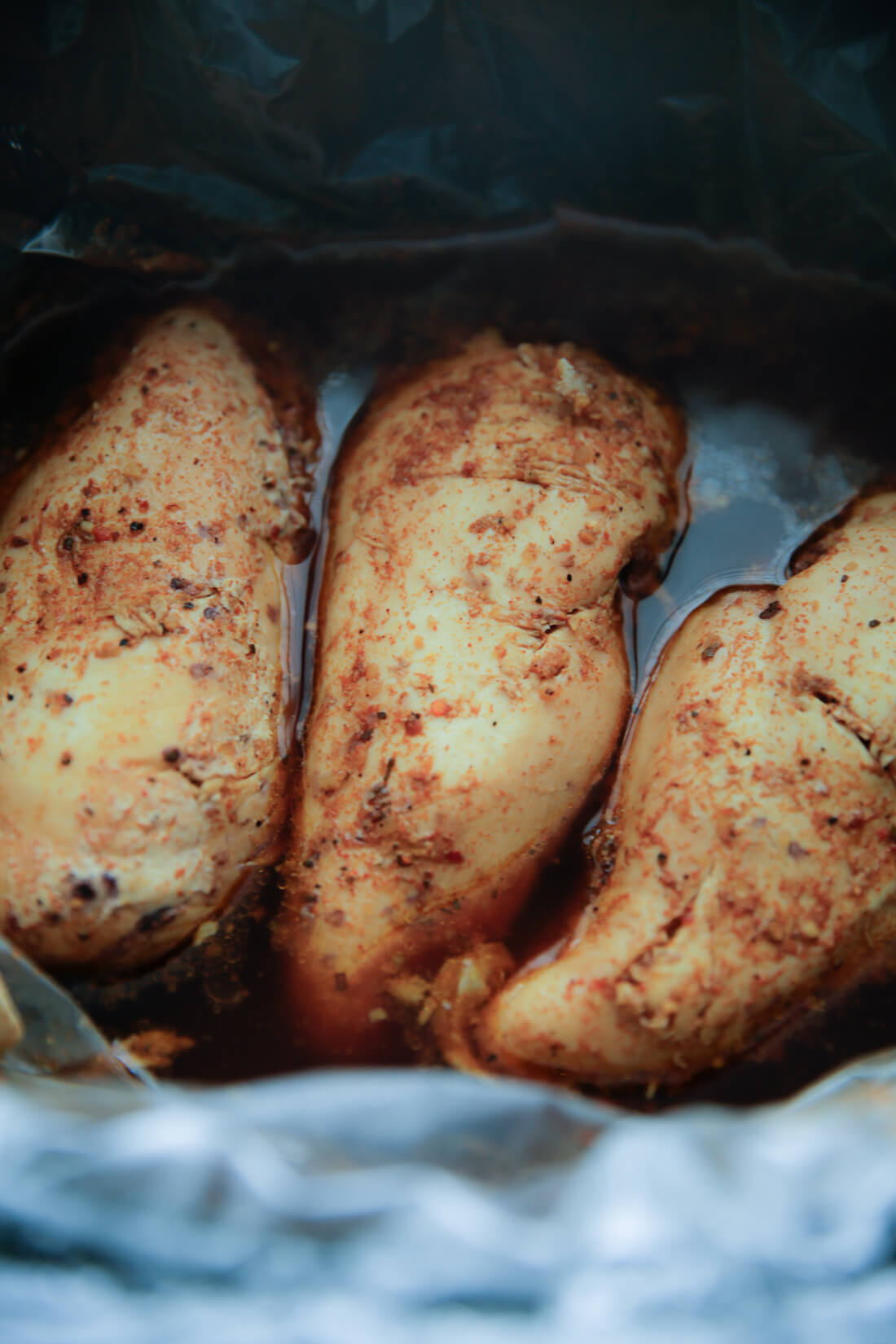 About half way through the time, I flipped my chicken breasts over, though it's not necessary.  Once they are ready to go, put them in a bowl or plate.  OR you can use this simple method to shred your chicken: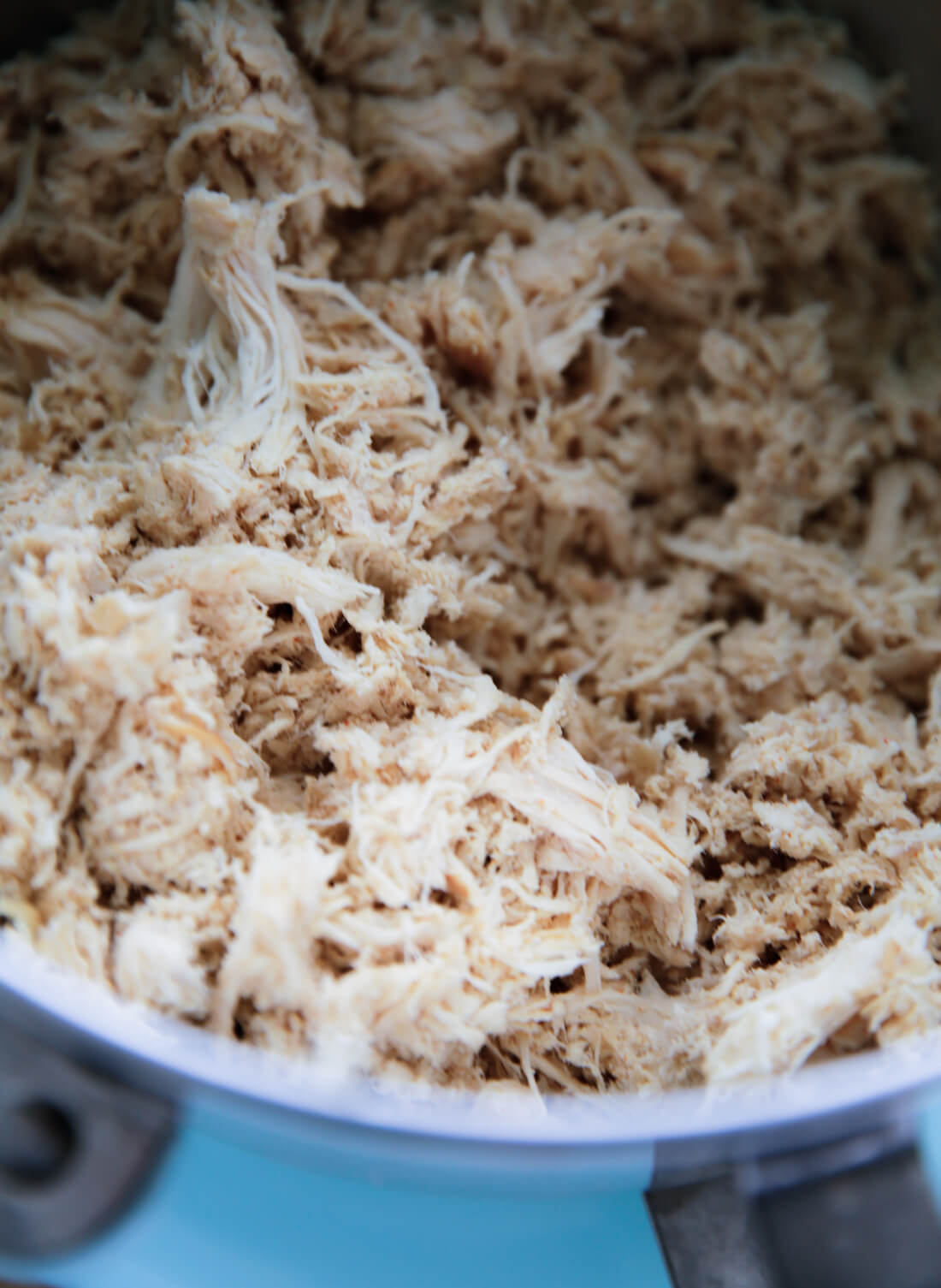 Slow Cooker Shredded Chicken
Place chicken into a stand mixer (I have a KitchenAid) and with the flat beater attachment.  Put it on the 2nd speed for less than a minute.  If you go longer than that it will get gummy and be too shredded.  You can add in some of the juice from the slow cooker to add flavor and make it more moist too.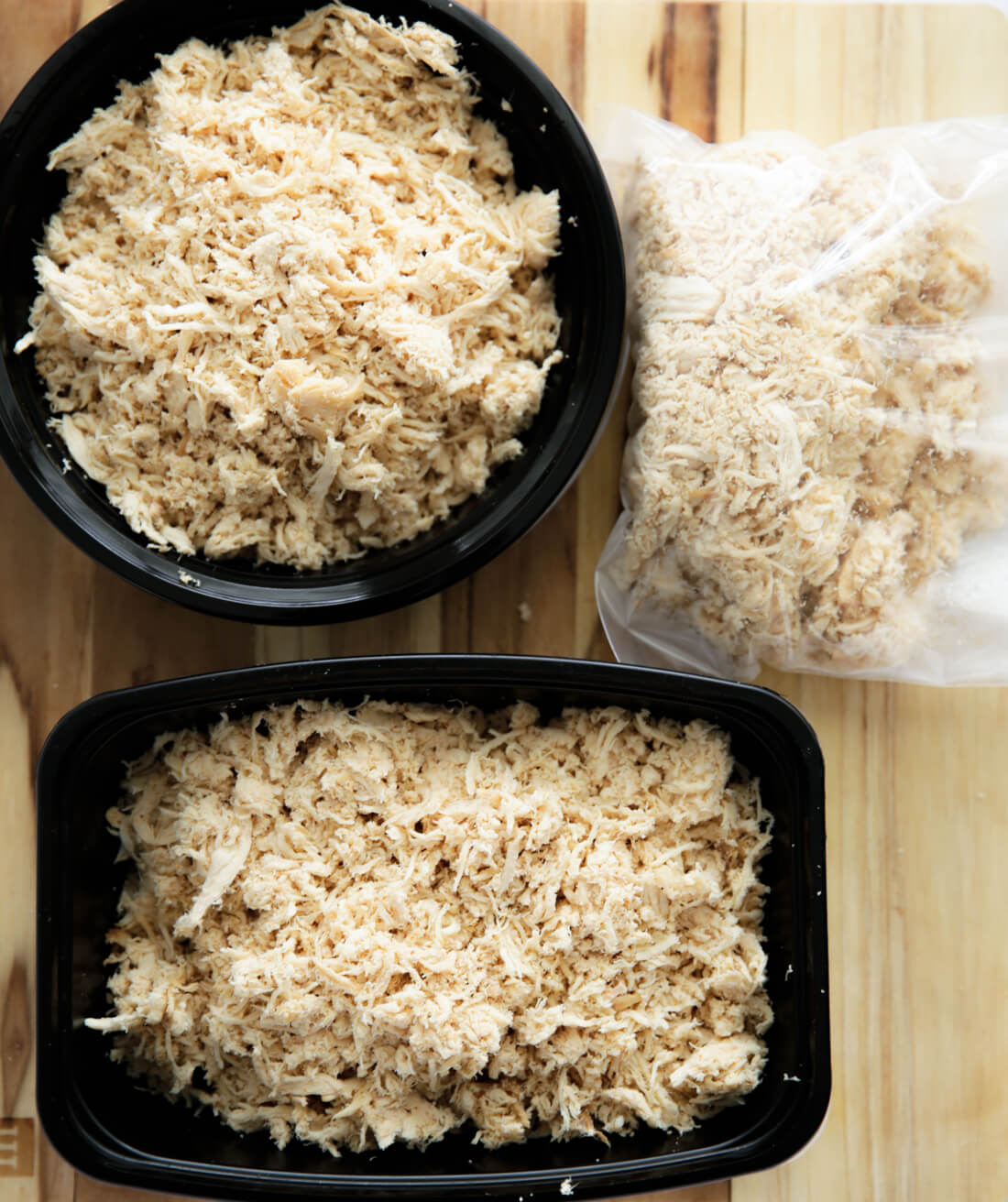 To use your chicken throughout the week, separate it into zip bags or in containers.  I have a mix of containers and baggies to use, depending on what I'm making.  If you make even more than you need for the week, add some to a freezer safe back, put the date on it and then store in the freezer until ready to use.
Note: pre-cooked chicken will last in the fridge for up to five days.  Pre-cooked chicken will last in the freezer for up to 3 months.
See other examples of how long will it last in the freezer.
What to make with crockpot chicken:
You've got your chicken ready for the week, now what? What are you supposed to make with all of this chicken?
Crockpot Chicken Recipes
These can all be made in the slow cooker as well with chicken.  They are all easy and delicious!
Crockpot Chicken Recipe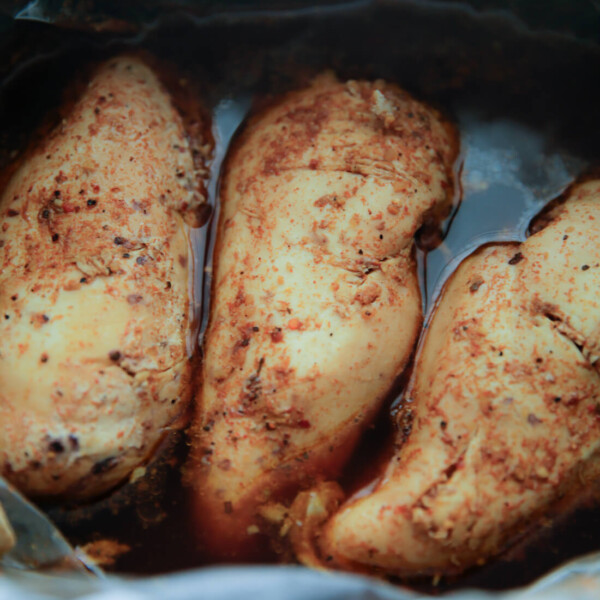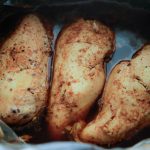 Print Recipe
Crockpot Chicken Breast
Get ahead for the week with this easy Crockpot Chicken Breast recipe. Throw in just a few ingredients and let it sit for hours until it's ready to go!
Ingredients
4

tbsp

taco seasoning

(1 packet)

1

c

chicken broth

1

lb

chicken breasts

boneless, skinless
Instructions
Dissolve taco seasoning in chicken broth.

Place chicken breasts in crockpot and pour chicken broth over.


Cover and cook on low 6 – 8 hours (depends on the size of your chicken breast).


With two forks, shred the chicken meat into bite-sized pieces (or use my trick with a stand mixer/hand mixer).


Use in any kind of tacos, burritos, nachos, taco salad or anything else.

To freeze: Put shredded meat in freezer bags with juice. Press all the air out and seal. Will last up to 3 months.
Nutrition
Calories:
68
kcal
|
Carbohydrates:
0
g
|
Protein:
12
g
|
Fat:
1
g
|
Saturated Fat:
0
g
|
Cholesterol:
36
mg
|
Sodium:
280
mg
|
Potassium:
233
mg
|
Fiber:
0
g
|
Sugar:
0
g
|
Vitamin A:
140
IU
|
Vitamin C:
3.3
mg
|
Calcium:
5
mg
|
Iron:
0.4
mg