When I was younger I wanted to be a teacher.  Now I think that maybe the idea of being a teacher came from loving crayons, paper, handwriting and any kind of office supply available.  Several years ago I got a laminator – the pinnacle of office supplies.  (maybe not – but go ahead and play along anyway?).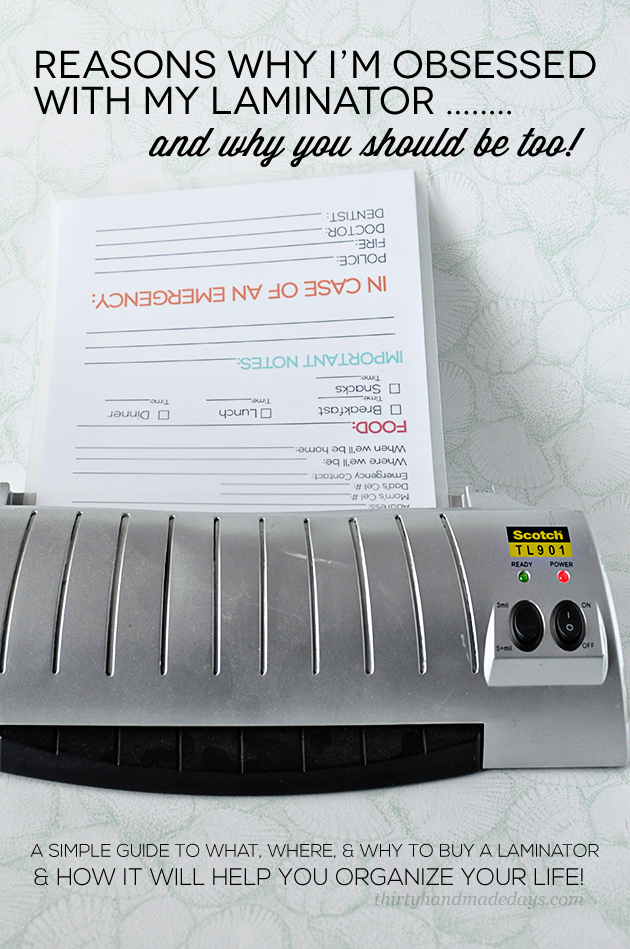 Over the holidays on my Facebook page I mentioned the laminator I use several times.  Lots of friends over there jumped in when there was a super good deal and I said I'd compile a post about how to use your laminator.  So here we are — Reasons I'm Obsessed with My Laminator.    That sounds much more dramatic than it needs to be.  But really, the possibilities are endless.
Here's the HOW: Each machine looks a tad different but they function the same.  All you need to do is turn on the power button, wait for the light to turn on that it's ready to go, slide whatever you want into a laminating pouch and feed it through the machine.   Some machines you feed through the bottom, but most are fed through the top.
And the WHAT:  I have made LOTS of projects using my laminator.  I have used both regular paper and cardstock as well as scrapbook paper.  See my gallery of laminating projects below.
WHY?:  Because you want to preserve something, make it last, turn it into a dry erase, for gifts.
Basic laminating supplies:
(affiliate links are included below)
Laminator
Pouches – paper size, badge size, 5×7 size
I use my 3 hole punch a lot for my binders & organizational projects
You can also get the laminator and pouches pack.
Dry erase markers
There are several brands and lots of places you can find a laminator.  I bought mine and one for a teacher gift on Amazon.  To laminate you'll also need laminating sheets.  There are also several sizes.  I've bought most of the sizes but use the standard letter size the most.  You can buy them in bulk.  People mentioned on Facebook that they found them at Sam's Club for a good deal.  I've bought mine at Target and Walmart in addition to Amazon.
So why I am I really obsessed with my laminator?  Besides the obvious that I love any excuse to play with office supplies? There are lots of reasons but the main thing is that it makes me feel more on top of my life.  I feel like I'm organized and have gone the one extra step to make sure that I've finished it off.  I also love that I can turn regular lists/charts/bookmarks (insert cool project here) into things that will last- no more ripped up backpack tags, chore charts, printed games.  I have made several "books" too – for the car, social stories for my oldest who is on the autism spectrum, to preserve old school papers, etc.
Below is a mix of all types of laminating projects that I have made.   There are kids games that can be preserved, bookmarks, chore charts, recipe cards, food related charts, and lots of uses with my binders and organizational posts.  Click each link to be taken to the project.    Make sure to check out all of my binders because I have used my laminator for something on each one.
LAMINATOR PROJECTS
[catablog_gallery id="20721″ template="gallery"]




I'm sure that I've missed some points and will continue to add more as I think of them.  But what do you think?  Did I convince you too?