Easy ground beef recipes that you can refer to again and again – casseroles, one pot, soups, salads and more!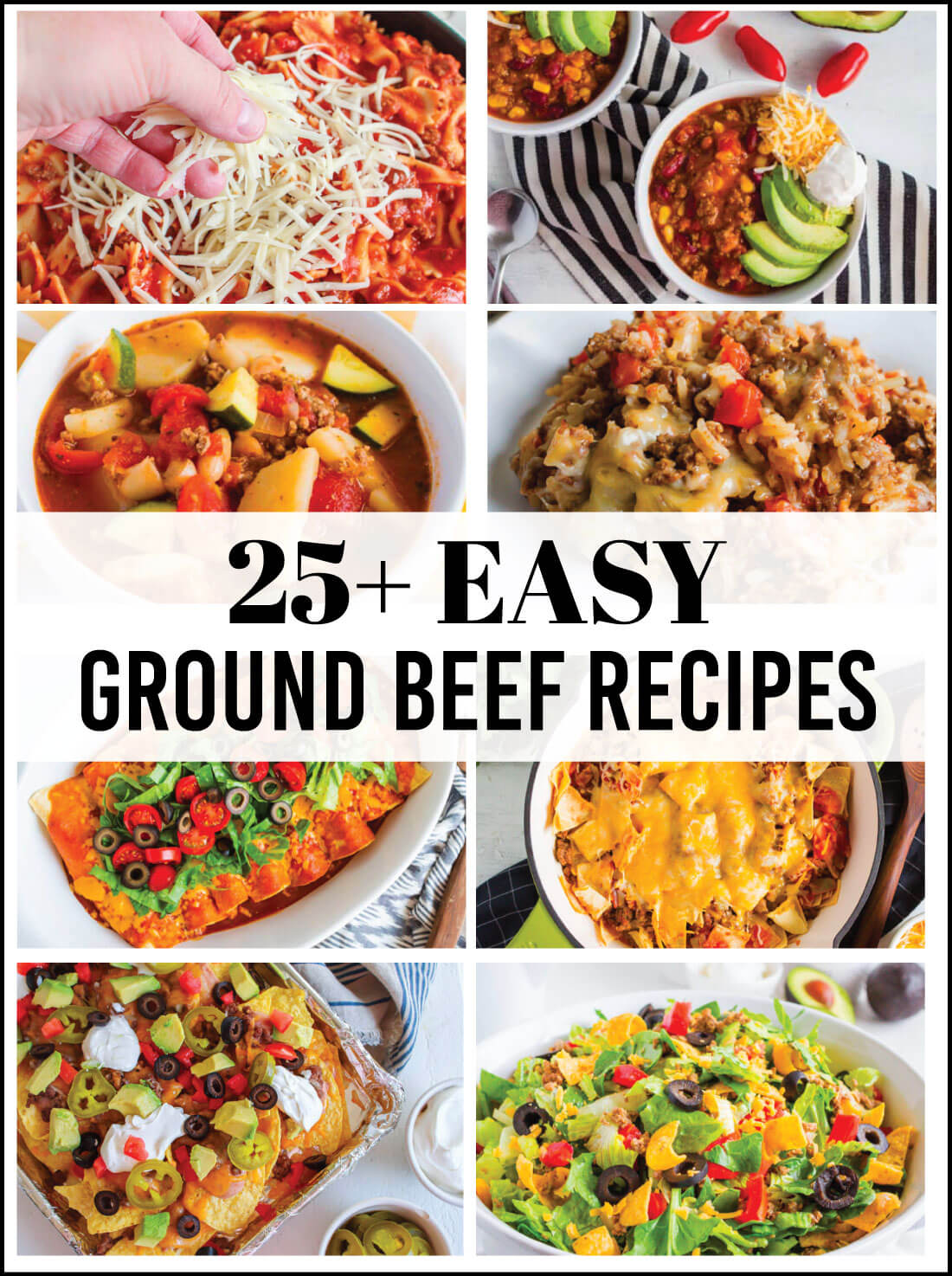 So you have a bunch of ground beef and don't really know what to make with it? I've got the list for you – so many good and simple recipes that you can make over and over that your family will love.
What You Can Make With Ground Beef
Feed your family really fast and inexpensively with ground beef! The possibilities are endless for what you can make with ground beef – casseroles, soups, salads, one pan and more. Below are several lists of the easiest recipes I could find!
How Long Will Ground Beef Last?
According to Food Safety, ground beef only lasts in the fridge for 1-2 days! I have kept ground beef in our fridge for much longer than that but it's advised to either use ground beef or freeze it within a couple of days. To maximize the length, make sure the package is unopened, kept in it's original package and in the bottom shelf of the fridge towards the back.
There are "sell by" dates but they are a guideline for retailers and aren't a federal requirement.
Freeze Ground Beef
If you know that you're going to freeze beef for later, it's best to freeze it right away. Remove ground beef from the styrofoam tray, divide it into portions before freezing it.
For best results, double wrap with plastic wrap and then a freezer bag. This prevents freezer burn.
Store for 3-4 months in the coldest part of the freezer (away from the door). Thaw in the refrigerator overnight before cooking or use the instructions below for defrosting.
If you want to know how long everything lasts in the freezer, check this post out:
How long will it last in the freezer?
Defrost Ground Beef
The first option of defrosting ground beef is to transfer it from the freezer to the fridge and let it thaw for up to a day before using. But if you want to defrost it quicker, you can use the microwave or cold water. Keep in mind that you'll need to use it right away if defrosting from the microwave.
To defrost in color water, make sure it's in an airtight container or plastic bag and put it all the way under water. Cook it right away.
How to Tell if Ground Beef is Bad
It's pretty easy to tell if ground beef has gone bad. It will change in color and texture, plus it smells terrible. It will have a sour smell and be a brownish-gray color. If it's been more than a few days in the fridge and has all of the signs, it's best to get rid of it instead of getting sick from bad ground beef.
Ground Beef Dinner Ideas
These are ground beef recipes that are made on the stove or slow cooker:
Ground Beef Casserole Ideas
Simple ground beef recipes that are made in a dish and baked:
Ground Beef Soup Recipes
Enjoy these easy soup recipes that contain ground beef: